Relevant, hype-free insights about what's happening in the global, U.S., and California economies.
Environment

February 9, 2021

Author:

Hoyu Chong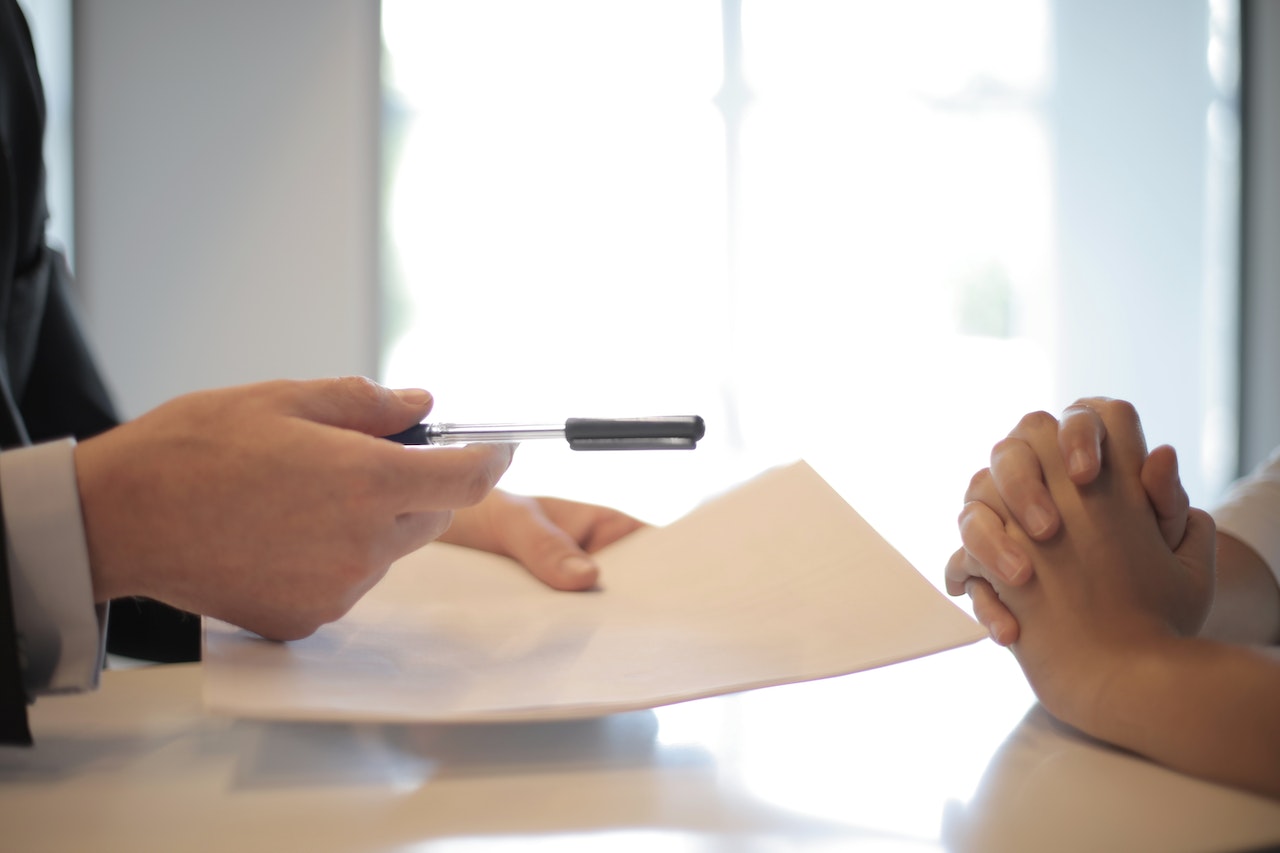 After meeting the goals of its landmark Global Warming Solutions Act (AB32) four years early in 2016, California's progress on climate change has stalled – and it will take bold leadership and a visionary approach to get the state back on track. Since the passage of AB32 in 2006, California has seen consistent progress in lowering its greenhouse gas (GHG) emissions, but the state confronts some hard truths as it looks to deliver even steeper reductions.
AB32 aimed to reduce California's GHG emissions back to 1990 levels by 2020. At the time of its passage in 2006, GHG emissions in the state were 11.6% higher than in 1990. This means when the goal was met 10 years later in 2016, California had averaged an annual decline of less than 2%. While that's progress, it's simply not enough to meet the goal of SB32, a higher target which aims to reduce GHG emissions to 40% below 1990 levels by 2030. At current trajectory, the state will need to reduce its emissions by about 5% every year to reach that goal.
Another added challenge is that, so far, a lion's share of GHG emission reduction has come from the electricity generation sector, the only economic sector the state has significant direct control over. From 2006 to 2018, the state reduced its GHG emissions by 58.04 million metric tons, of which 71.7% came from reductions in electricity imports and in-state electricity generation.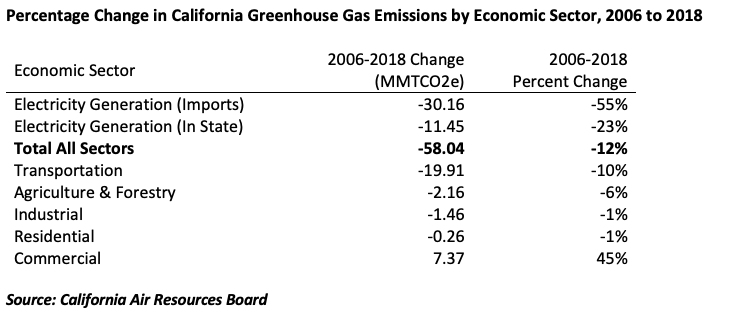 The state has reasonable control over emissions from the electricity sector because it requires investor-owned utility companies and other utility providers to source a minimum percentage of electricity from renewable energy. The transportation sector has had the next highest percentage of GHG reduction (-10%), which can mainly be credited to California's clean transportation policies. While the state has less direct control over transportation sector emissions, it can incentivize people to adopt cleaner transportation choices. On the other hand, the state has very little direct influence over other economic sectors. As illustrated in the table above, all other sectors have either had minimal GHG reductions (agriculture & forestry, industrial, and residential) or had GHG emissions increase significantly (commercial) from 2006 to 2018.
AB32 was a warm-up, but to meet SB32 goals, the state needs to double down. To be clear, this problem is not unique to California: Other states with similarly ambitious climate goals are facing the same problem. In the case of Oregon, the state has missed its 2020 goal and is going to miss its 2035 goal. Moreover, while California is often lauded for being a leader on climate change, it lags states such as Massachusetts on curbing GHG emissions. Whereas GHG emissions went up from 1990 to 2006 in California, Oregon, and the nation overall, they were flat in Massachusetts, giving it a head start over other states in reaching future climate change goals.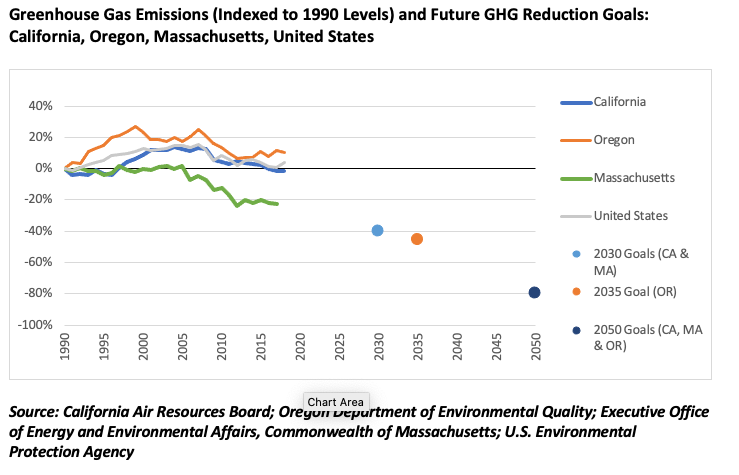 So, what can California do to make sure it doesn't squander its chance to meet its 2030 (40% below 1990 GHG emission levels) and even 2050 (80% below 1990 GHG emission levels) goals? Reducing GHG emissions from transportation (which makes up 41% of California's total GHG emissions) and especially from the passenger vehicle subsector (which makes up 28% of the state's total GHG emissions) would surely be one of the highest priorities.
But car is king and it's not realistic to nudge Californians towards less driving, so the best bet for the state is to electrify the transportation sector. Although California is the frontrunner when it comes to plugin electric vehicle sales, many European countries blow us out of the water.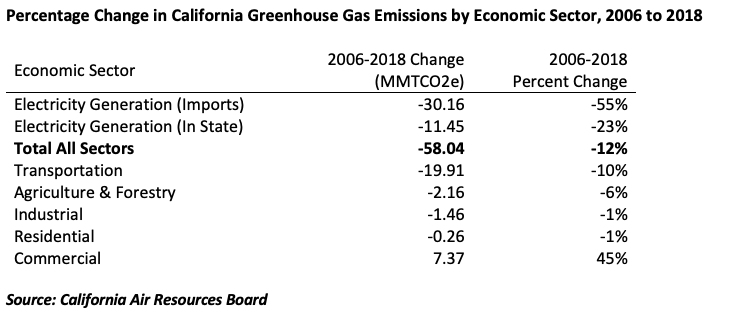 Notably, Europe has many factors—denser cities, narrower roads, shorter distances between major cities, and more expensive gasoline to name a few—that make driving an electric vehicle more attractive relative to driving a gasoline-powered vehicle. There are also more compelling consumer choices in European markets than there are in California, which is primarily dominated by Tesla. However, there are some exciting offerings coming down the pipeline. Rivian's electric trucks and SUVs, Tesla's cybertruck, and Ford's electric F-150 (the most popular pickup-truck in America) may appeal to more drivers and broaden California's electric vehicle market.
In 2021, California policymakers can build on the accomplishments of the past and move even faster towards reaching the state's GHG emissions goals. Indeed, several opportunities are on the horizon. Governor Newsom's recently released economic recovery plan includes $1.5 billion over ten years for constructing electric charging stations and subsidizing purchases of zero-emissions vehicles for low-income communities. If California policymakers can approve and expand this funding, it could move the needle towards reaching SB32's goals and provide the crucial climate, environmental justice, and economic stimulus the state needs.