The onset of the COVID-19 pandemic was a generational challenge to the global entertainment industry, one that led to the delay or cancellation of up to 60% of scripted titles and to an 80% drop-in box-office revenue.
blog

,

General Economy

May 3, 2021

Author:

Patrick Adler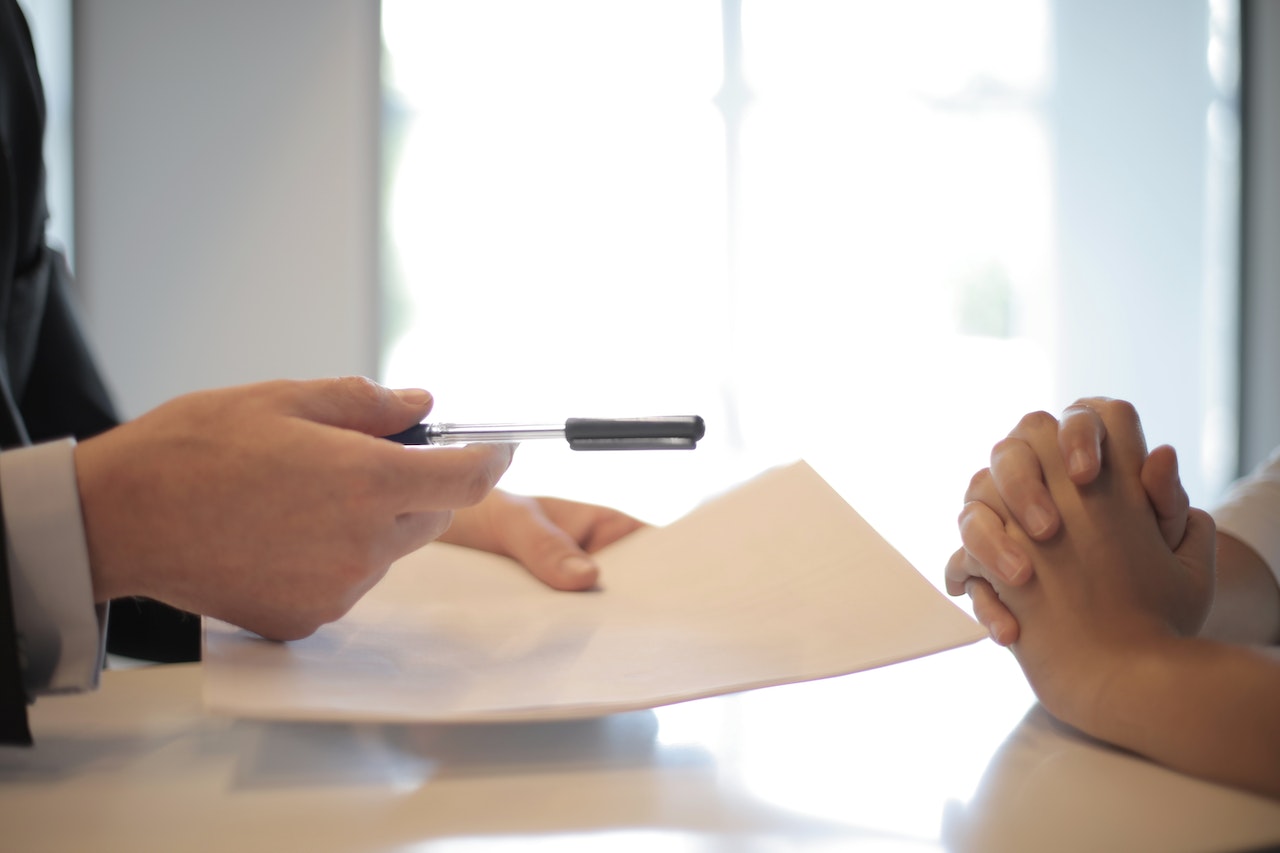 "This analysis was originally published as part of the LA2021 Future of Creative Talent Summit and was co-authored by Patrick Adler, Adam Fowler, and Mazen Bou Zeineddine.
The onset of the COVID-19 pandemic was a generational challenge to the global entertainment industry, one that led to the delay or cancellation of up to 60% of scripted titles and to an 80% drop-in box-office revenue.
Addressing the subsequent economic crisis in Los Angeles County has largely meant addressing the SARS-CoV-2 virus at the center of the pandemic. When COVID-19 test positivity peaked in the County in the 2nd quarter of 2020, unemployment spiked and film shooting completely stopped. Since that time, progress in lowering the incidence of the disease has coincided with a return to work for many, including film production workers.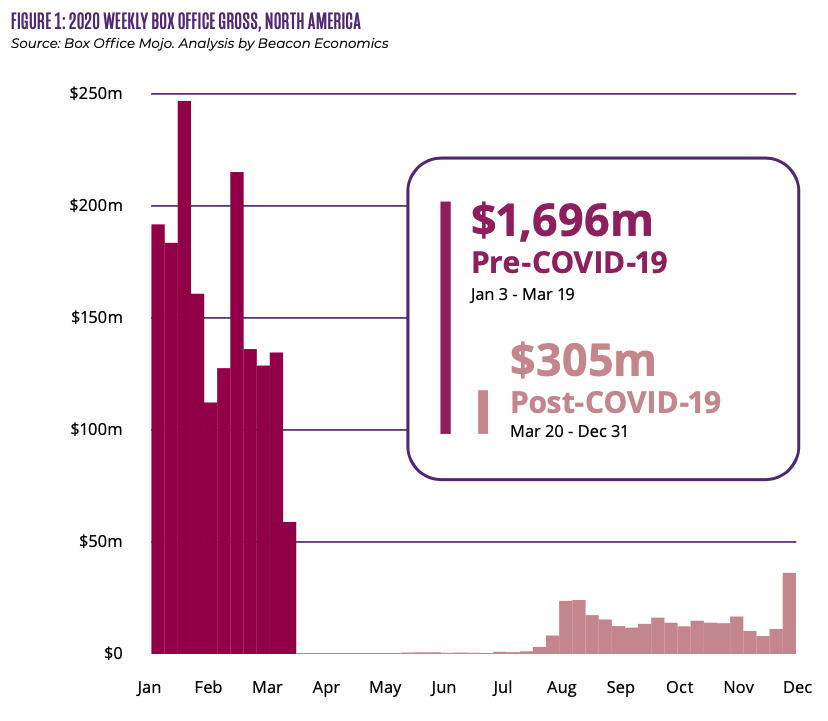 In the most recent Otis Report on the Creative Economy, Beacon Economics estimates that 90,547 direct jobs in Entertainment and Digital Media were lost in Los Angeles County from February 2020 to December 2020. These job impacts and the impacts on the supporting supply chains (e.g. hospitality, transportation, restaurants, dry cleaners, equipment suppliers, and retail establishments) resulted in a loss of $74 billion in forgone economic output. For an Entertainment and Digital Media hub like Los Angeles County, such a slowdown was felt economy-wide as hundreds of thousands of film and film-supporting workers have struggled to maintain their ways of life.
With the rollout of effective vaccines, and the County's economy on course to reopen, legacy challenges remain. As of April 2021, film production and overall economic activity remain far below their pre-pandemic levels. Moreover, unfortunately, even a fully re-opened Los Angeles County might not return to 2019 shooting levels due to higher pandemic-driven production costs.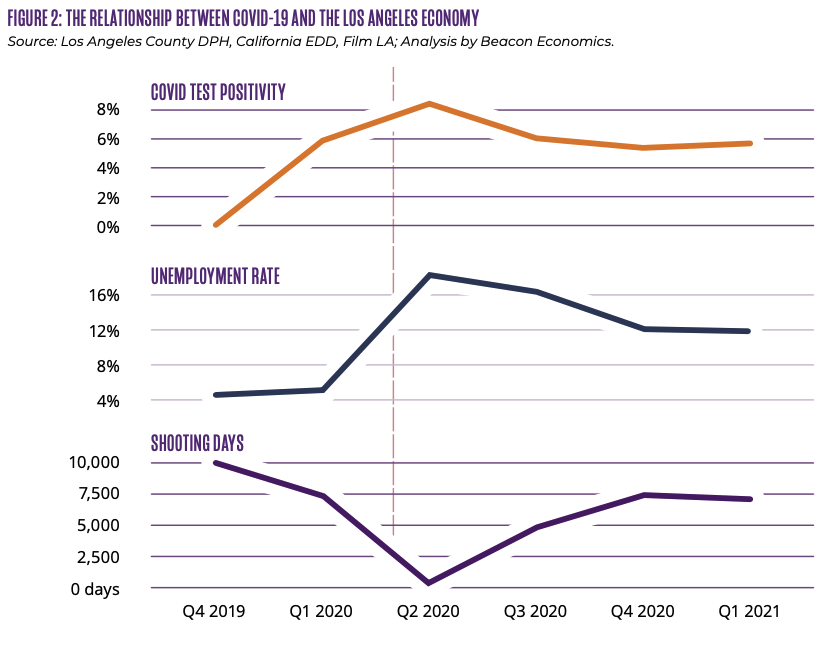 Challenge: Increased Production Costs
Increased production costs surrounding disease mitigation (e.g. testing, cleaning equipment) loom large. After reviewing budget data from television and film productions, including those submitted to the California Film Commission as part of the Film & Television Tax Credit Program, Beacon Economics found that additional costs associated with COVID-19 protocols average 5.6% of total production budgets. For low-budget productions (budgets under $17m), the average cost of COVID compliance is $528,000.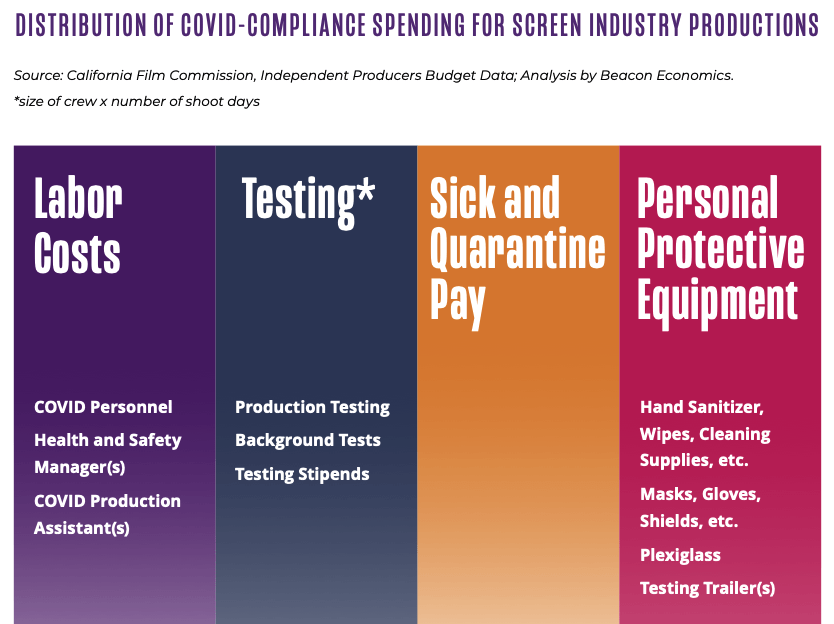 Challenge: An Unemployment System With An Untenable Workload
There has been no shortage of news headlines excoriating California's unemployment insurance claims system. But, in fairness, as a system designed to handle one-fifth of the workload it received throughout 2020, delays were understandable. For many working in the Entertainment industry, unique challenges emerged. Early in the pandemic, industry workers reported that residuals from previous work were causing glitches in the state's unemployment claims system. These residual earnings were accounted for as if the claimant had been working that week when, in fact, the industry was at a standstill. Labor organizations often had to step in and deploy financial support to workers to bridge the time they needed to resolve these delays.
Historically, state tax agencies classified alternative payments such as residuals as "wages" in order to collect traditional wage-related taxes on them. Treating residuals as "wages" was an attempt by state tax agencies to solve for individuals who might try to skirt the tax system by electing to be paid scale upfront and then take the bulk of their pay as residuals (or royalties, bonuses, etc.) at a lower tax rate. As the state emerges from the pandemic and begins to revisit investment in the unemployment insurance claims system, there is an opportunity for public and private sector partners to find creative ways to solve the delays and challenges that are associated with the unique nature of the entertainment workforce.

Challenge: Production Insurance Gaps
In additional to health and safety costs, production insurance gaps and costs are even more prohibitive for small and mid-size production companies. Independent film and television producers and companies are facing a severe impediment to filming: Most independent productions cannot obtain the insurance coverage needed to cover pandemic-related delays or cancellations. This is due to a broad communicable disease exclusion within these policies that makes it impossible to protect against the risk associated with interruptions or cancellations caused by COVID-19 (or any communicable disease).
Without an insurance policy, an independent producer's ability to obtain financing or to access the capital necessary to commence production, is severely complicated or impossible.  These conditions are less challenging for large producers that can afford to absorb extra risk but are devastating for small and independent productions. It's estimated that between 250 and 400 film and television projects in the U.S. have been cancelled because they could not be insured. Other jurisdictions around the global, such as the United Kingdom and Australia, have acted quickly to erect a public backstop that allows smaller productions to access insurance coverage. Those jurisdictions have seen previously U.S. based production move in their direction, where coverage exists.