Compelling speakers for business and government audiences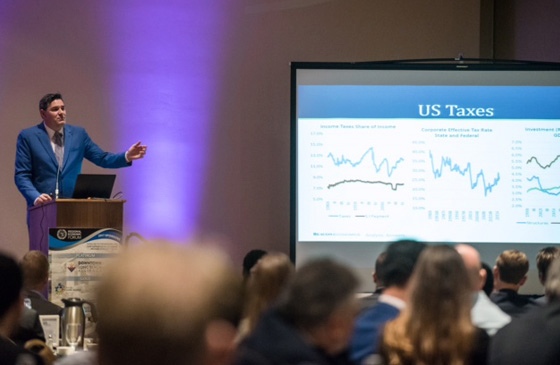 Beacon Economics is a top-tier resource for keynote and business speakers.
The firm's engaging experts are in growing demand across North America whether delivering an economic forecast to a convention of thousands or talking to a corporate board about issues facing their industry. Beacon's experts are natural teachers who deliver current economic and policy insights to audiences with varying levels of economic and financial sophistication.
Presentations are designed to meet clients' needs – discussions can be tailored to focus on a geographic region, industry, or other parameter – and are always based on the most recent data available.
National Confectioner's Association
California State Controller
Building Industry Association
Coldwell Banker
Wells Fargo
California Newspaper Publishers Association
Stirling Development
Colliers International
California Mortgage Bankers Association
Fair Housing Council of Riverside County
California State Association of Counties
American Business Bank
Montana Legislative Fiscal Division
California and Nevada Credit Union League
Kaiser Permanente
State Farm Insurance
Los Angeles Chamber of Commerce
Universal Health Services
San Diego County Apartment Association
California Mortgage Bankers Association
International Council of Shopping Centers
Beech Street Capital

Beacon Economics provides customized five-year data forecasts for variables including:
Taxable Sales
Home Prices & Sales
Personal Income
Unemployment
For information about any of the Beacon Economics practice areas, please contact:
Strategic Partnerships Manager Kristen Lovell at [email protected]  or 424-372-1061.
"Based on your presentation, I called my real estate agent and within the week was out of the transaction. That was easily the best decision I could have made."